Quips, Quotes and Anecdotes, by Alan Garrity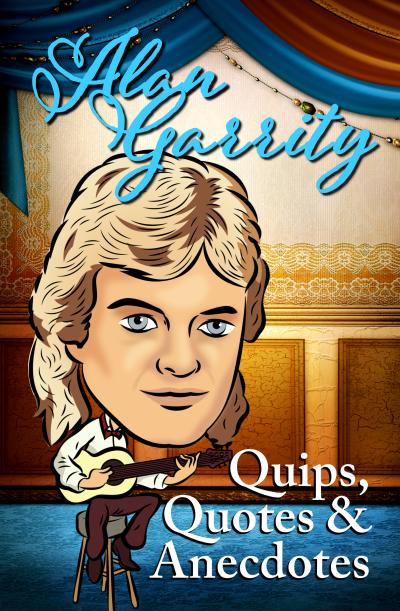 Well-loved singer Alan Garrity worked with us to produce this wonderful mix of jokes, quotes, and stories from his own life.
Alan Garrity has been beloved by audiences in Africa (and indeed, internationally) for decades, and his followers on Facebook have enjoyed his humorous posts so much that they have frequently requested a book! So here it is.
There is a Discography in the back of this book, but suffice it to say that he recently released yet another album, this one featuring his daughter Eden on two tracks.
This book is intended not necessarily to be read chronologically, but to be dipped into as the fancy takes you. Enjoy!

About the Author
Alan was "an army brat", brought up in Hong Kong, Germany, Singapore, Britain, and Rhodesia. He took to music early on, and it wasn't long before he was offered a solo recording contract. From his first song in 1970, Alan's career in music skyrocketed.
Alan moved to Rhodesia with his parents shortly before his 14th birthday. He learnt to play guitar at 15 and as a hobby sang in local pubs and hotels. He had his first hit single, Coloured Rain, with the band Tabbron Trio; it raced up the Rhodesian record charts, peaking at Number 2. Soon afterwards he was offered a recording contract by Peter Lotis, of Gallo Records, and the rest, as they say, is history. In 1971 he was presented the Springbok Award for South Africa's 'Most Promising Male Vocalist', and in September that year his first album was released. Many more hits were to follow, and his voice with its three-octave range also earned him a place in musical theatre, playing the lead role in Joseph and the Technicolour Dreamcoat.
While Alan continues to record albums (his latest featuring daughter Eden), this book, Quips, Quotes and Anecdotes is a light-hearted look at his life in show business, wrapped around a selection of humorous Facebook posts. The book is available in print, ebook and audio book formats, with the audio version read by Alan himself.