Bangkok to Ben Nevis – Backwards! by Phil Hall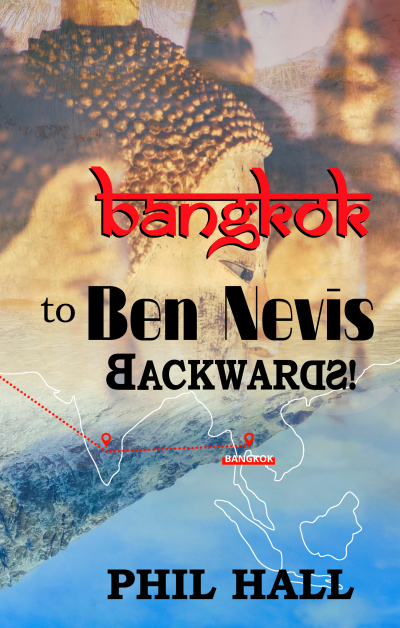 This is an amazing memoir that will never bore the reader! We took this from original manuscript to final print-ready PDFs, several times making changes after finishing due to angry family members threatening to sue! It was quite a ride, but in the end the book maintained its integrity, excitement, and awe. The cover image was created by the author's friend, but the design and lettering were mine. Love this cover!
Debt, Dementia, Emigration, and Attempted Murder!
The adventures of the Hall family as they move from crisis to crisis, on whims and ideas, badly executed.
If you ever wanted to learn a little about how not to move your family to a strange and exotic country or two, this true cautionary tale is perfect for you!
Sometimes happy, sometimes sad, never boring, Phil Hall's account of dragging his family across the world and back again is intriguing, funny, shocking, and at times heartbreaking. Oxfordshire, the Highlands of Scotland, Bangalore, and North East Thailand form the backdrop to these memoirs of cock-ups galore!
Dealing with tropical nightmares, adventures with snakes (both human and reptile), vehicular challenges, culture shock(s), betrayal(s), career changes, debt dispersal, family diaspora, and the tragedies endemic in growing old – all crammed into an 18-month journey to self-acceptance.
About the Author
Phil Hall lives in Wallingford, Oxfordshire and currently works helping others to understand why IT is such a pain in the arse! He shares his home with his lovely wife Jum and their adorable Westie, Megan and occasionally their amazing son, Thomas Hall. This is his first published book and he plans to release a few more before admitting that perhaps he's better off raising tarantulas.